We have Special Fabrication Facility to manufacture and supply all type of industrial components, Heat Exchangers casings and Special Fabrication Components specifically required to cater needs of Furnace Industry.
These systems have many benefits which could be direct or indirect.
Direct benefits: The recovery process will add to the efficiency of the process and thus decrease the costs of fuel and energy consumption needed for that process. Indirect benefits o Reduction in Pollution: Thermal and air pollution will dramatically decrease since less flue gases of high temperature are emitted from the plant since most of the energy is recycled. o Reduction in the equipment sizes: As Fuel consumption reduces so the control and security equipment for handling the fuel decreases. Also, filtering equipment for the gas is no longer needed in large sizes. o Reduction in auxiliary energy consumption: Reduction in equipment sizes means another reduction in the energy fed to those systems like pumps, filters, fans, etc.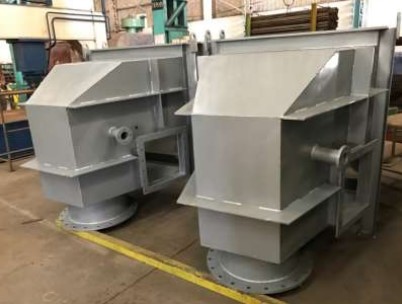 We give prime importance to the quality of product supplied. Our product undergoes various tests during and after manufacturing process.
1. Dimensional check
2. NDT Testing (DP Test)
3. Pneumatic Testing
4. Hydraulic Testing
5. Paint Thickness
6. and Paint Adhesion Test
We believe that issue can be pointed out by any but trouble shooting is the skill of technical expert. If any issue at site our technically sound service engineers are always ready to support our valued customers.